6.5" Aluma-Style Beams/Joists, 7.5" Aluminum Stringers/Strongbacks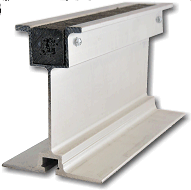 Welcome To Gateway Industries
Founded in 1985, GATEWAY INDUSTRIES
manufactures a variety of alumimum beam concrete forming and shoring products, including the 6½" aluma style aluminum beam, the workhorse of the industry, as well as a 7½" aluma style aluminum stringers and specialty variants for particular applications, lightweight Aluminum Strongbacks, and all the connectors/splicing parts, including A-Bolts, A-Clamps, W-Clamps and C-Clamps.

All materials are manufactured to architectural grade 6061 alloy and T6 temper specifications, the standard in the industry. Every product lot is inspected, tested and certified for chemistry and mechanical properties, with quality records on file.


GATEWAY INDUSTRIES
differentiates itself in the marketplace through a commitment to prompt delivery of quality products. Standard lengths of the popular 6.5" Aluminum Beam are in stock for immediate delivery. Generally, many hundreds of 8', 10', 10.5', 12', 14', 16', 18', 20', 21', 22', 24' are stocked. Gateway does not insist on minimum order quantities and can palletize small orders and ship next day.

For product not in stock,
GATEWAY
can fill most custom orders within 2-3 weeks, regardless of the quantities of materials. This just-in-time mentality provides you with an edge in delivering the next big job and the opportunity to quickly move on to another.

Although GATEWAY's mainstay products are industry standards, we also make beams, clamps and extrusions for many customers who have proprietary shoring systems. We can make yours.


We at GATEWAY INDUSTRIES
look forward to serving you.





© 2010 Construction Components Inc. dba Gateway Industries
1236 Brittain Road
Akron, Ohio 44310

Phone (330) 633 - 3700
Fax (330) 633 - 3716

All Gateway Industries Joists, Beams, Stringers are compatible with all major aluminum shoring systems including Aluma Systems' Aluma Beam, Aluma Stringer, Aluma Strongback, and Jasco's Hi-Lite Beam, Hi-Lite Stringer, and Patent Construction' (Harsco) Patent Joist, Patent Stringer, and Symons Joist, Symons Beam, and Safway Joist, Safway Stringer, and Waco Scaffolding Beam, Waco Stringer, etc....

Serving the Concrete Construction
Industry For Over 30 Years