6.5" Aluma-Style Beams/Joists, 7.5" Aluminum Stringers/Strongbacks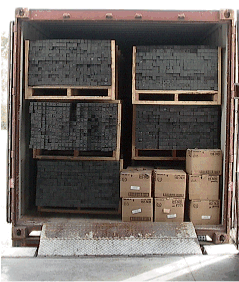 GATEWAY prides itself
on prompt and speedy delivery of all its products. Commitment to delivery is key to its success as nearly all orders are shipped per promise date. Given an average lead-time of 2-3 weeks for most any size order,
GATEWAY
is able to provide materials for jobs that won't wait, especially when your success depends on a no-surprises delivery. Much like the 6 1/2" aluminum beams you see bundled here, we also stock many of the standard beam lengths for immediate delivery . If your job requires standard length beam or can be crafted to conform to standard lengths, literally truckloads can be shipped same day from our yard!

We can also help manage the cost of freight. We work with a myriad of carriers: common carriers for small loads and flat-bed carriers for large. We are more than happy to acquire competitive quotes for any size load, to any destination, domestic and international. We can also generate customs paperwork for international orders. We also regularly ship container loads

by the bundle

for easier unloading.

Given our ongoing commitment to quality, including chemical, mechanical and dimensional testing for each production lot, our shipping record makes
GATEWAY INDUSTRIES
your best bet in fulfilling your next order with speed and confidence.


We at GATEWAY INDUSTRIES
look forward to serving you.


PALLETIZED BUNDLE FOR COMMON CARRIER SHIPMENT

© 2010 Construction Components Inc. dba Gateway Industries
1236 Brittain Road
Akron, Ohio 44310

Phone (330) 633 - 3700
Fax (330) 633 - 3716

CONTAINER OF PLASTIC/CLAMPS
All Gateway Industries Joists, Beams, Stringers are compatible with all major aluminum shoring systems including Aluma Systems' Aluma Beam, Aluma Stringer, Aluma Strongback, and Jasco's Hi-Lite Beam, Hi-Lite Stringer, and Patent Construction' (Harsco) Patent Joist, Patent Stringer, and Symons Joist, Symons Beam, and Safway Joist, Safway Stringer, and Waco Scaffolding Beam, Waco Stringer, etc....

Serving the Concrete Construction
Industry For Over 30 Years